This site is the archived OWASP Foundation Wiki and is no longer accepting Account Requests.
To view the new OWASP Foundation website, please visit https://owasp.org
User:Dennis Groves
From OWASP
Dennis Groves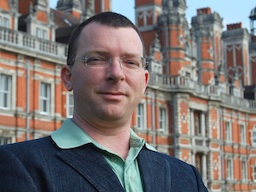 Background
Dennis Groves is a well known thought leader in application security who's work focuses on multidisciplinary approaches to information security risk management. He holds an MSc in Information Security from the University of Royal Holloway, University of London. He is currently a UK expert for the UK mirror of ISO subcommittee 27, WG4.
OWASP officially began on Sun, 23 Sep 2001, when Mark sent an announcement out to the WebAppSec mailing list. OWASP began in earnest much earlier when Mark and I began tirelessly working together toward that common vision. Due to our close proximity, we were able to spent numerous hours on the phone and sent thousands of emails leading up to that announcement, building the website, authoring content and recruiting volunteers to help us build OWASP. Unfortunately, much of this activity is lost as it took place off of the AppSec mailing list. Many of OWASP's values were derived from my personal values, and many of them still continue to shape OWASP as it is today. I started the first Chapter in San Jose, and many other chapters in the decade that followed. I was also the first author and editor of the OWASP Guide.
I strongly feel the success of OWASP is due to the hundreds of volunteers, leaders, chapters and board members who have worked together and altruistically given of themselves to provide the world with top quality solutions to the very difficult problems of application security. Thank you.