This site is the archived OWASP Foundation Wiki and is no longer accepting Account Requests.
To view the new OWASP Foundation website, please visit https://owasp.org
Tribute to Paul Ritchie
From OWASP
This page is being created as a tribute to our former Executive Director, Paul Ritchie.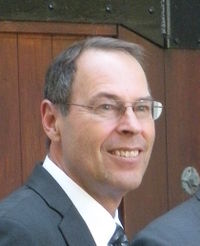 As per announcement on OWASP Leaders, OWASP Community, and OWASP Board mailing lists the morning of May 3, 2016:
---
OWASP Community
May 3, 2016
Dear Friends,
It is with great sorrow that I must write to report the sad news of the death of our Executive Director, Paul Ritchie, after a short illness.
Paul first joined OWASP in August of 2014 and became the full time Executive Director in May 2015. He has helped the organization to grow globally and has made an enormous difference in our community. He will be greatly missed. He brought order and professionalism. He raised our own high expectations and delivered on the things he set out to do. He made all of us that worked closely with him better and more effective. He helped to set long term strategic goals and managed OWASP's fiduciary responsibilities with ease.
On behalf of the Board of Directors, we will miss Paul for his leadership and friendly wry knowing smile as the board worked to make difficult choices. I doubt I can express my own sinking feeling of grief at the news, which came suddenly and too early.
Paul's family asked that we direct those in the community that would like to show support or make a donation to do so in Paul Ritchie's name to the Multiple Myeloma Research Foundation at https://www.themmrf.org.

Sincerely,
Matt Konda
On behalf of the OWASP Global Board
---

Paul meant a great deal to us as a leader and friend. Below, please share your sentiments, memories, and family condolences regarding Paul and at some point, we will make this link available to Paul's family as a lasting tribute. May you rest in peace!
-kevin w. wall
---
Paul had a hugely positive influence on OWASP. He was kind, tolerant and brought calm to a sometimes turbulent community. He will be greatly missed.
Simon Bennetts
---
Paul, it was great to meet you in person in Amsterdam at the OWASP AppSec 2015.
We all loved the way you lead us towards a more organized and better OWASP.
Thank you for everything you have given us.

Matteo Meucci
---
Paul was a great person. He had poise, grace in all things, he always was the adult in the room giving us objective and experienced advice. He had a very wry and subtle sense of humor, you would miss it if you didn't pay attention. He never sought the limelight, his work was making others look great and that's what a real leader is. I learned a great deal just watching Paul in action. May he and his family all be at peace.
Jim Manico
---
Paul came to us during a time of never ending crisis, and really helped right OWASP's course - first as interim ED and then as our full time Executive Director. He had dealt with many Boards and companies over the years, and even through our tumultuous 2014, he saw the vision of OWASP and believed in it. Paul brought all of that experience to OWASP, helping us set ourselves up for the future. He really set the bar so very very high for any future OWASP Executive Director.
I am missing him, his wise counsel, and his dry humor every day. Rest in peace, Paul, and my family's condolences to all of Paul's many friends and family.
Andrew van der Stock
---
Paul was an inspirational person. As an Executive Director he had done such a great job. He will always be missed. May his soul rest in piece.
Nitin Pandey