This site is the archived OWASP Foundation Wiki and is no longer accepting Account Requests.
To view the new OWASP Foundation website, please visit https://owasp.org
OWASP Project Summit USA 2014
From OWASP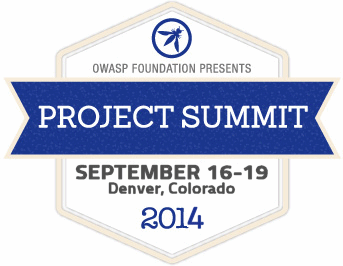 Introduction
The OWASP Project Summit is a smaller version of the much larger OWASP Summits. This event activity gives our project leaders the opportunity to showcase their project progress, and have attendees sit down and work on project tasks during the event. It is an excellent opportunity to engage the event attendees, and it gives project leaders the chance to move forward on their project milestones while meeting new potential volunteers that can assist with future milestones.
This year edition will be simple and straight forward as it is actually a rescued edition.
Details can be found on this Google Spreadsheet.
We have a large room at the conference hotel with round tables and chairs for 50 people.
We'll have a Summit exclusive wifi connection. For specific project funding need (travel/hotel) please use the Community Engagement Funding bucket for Projects.
Participants for open sessions will be able to register using sched.org.
Thanks to the following chapters for donating money so we can make this happen: Boston, Bay Area. You can still pledge hereif you wish to donate.
For questions about pre-planning details, spreadsheet admin ask Jonathan. Questions about on-site, room related, logistic details should be asked to Matt.
| | | | | | |
| --- | --- | --- | --- | --- | --- |
| Working Session # | Wednesday 1PM | Thursday 9AM | Thursday 1PM | Friday 9AM | Friday 1PM |
| #1 | | | OWASP .NET Project Planning and Content Creation | OpenSAMM Workshop Play-books, PCI-SAMM Matrix, Project QA | OWASP Mobile Top Ten Project Planning and Call for Input |
| #2 | | | OpenSAMM Workshop Play-books, PCI-SAMM Matrix, Project QA | OWASP WebGoat 6.0 Project Planning and Beyond | |
| #3 | | | OWASP Reverse Engineering and Code Modification Prevent Project | OWASP Reverse Engineering and Code Modification Prevent Project | |
| #4 | OWASP Media Project Conference Setup | | OWASP ASIDE Project Planning | OWASP Developer Guide Writing Session. Hopefully, with remote participation | |
| #5 | | OWASP ESAPI Bug Squash-a-thon | OWASP ESAPI Bug Squash-a-thon | | |