This site is the archived OWASP Foundation Wiki and is no longer accepting Account Requests.
To view the new OWASP Foundation website, please visit https://owasp.org
Delhi NCR
From OWASP
About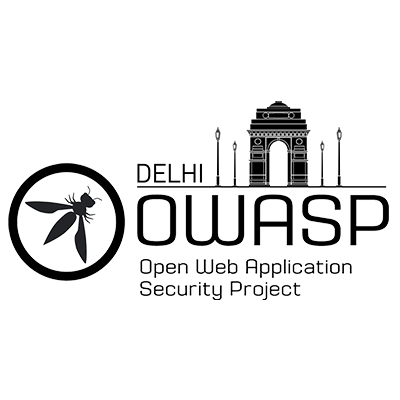 The OWASP Delhi Chapter meetings are FREE and OPEN to anyone interested in learning more about information security. We conduct regular (mostly monthly) meetings covering Noida, Gurgaon, and Delhi region.
OWASP Delhi
Welcome to the Delhi chapter homepage. The chapter leaders are Vaibhav Gupta and Sandeep Singh

Participation
OWASP Foundation (Overview Slides) is a professional association of global members and is open to anyone interested in learning more about software security. Local chapters are run independently and guided by the Chapter_Leader_Handbook. As a 501(c)(3) non-profit professional association your support and sponsorship of any meeting venue and/or refreshments is tax-deductible. Financial contributions should only be made online using the authorized online chapter donation button. To be a SPEAKER at ANY OWASP Chapter in the world simply review the speaker agreement and then contact the local chapter leader with details of what OWASP PROJECT, independent research or related software security topic you would like to present on.
Sponsorship/Membership

to this chapter or become a local chapter supporter. Or consider the value of Individual, Corporate, or Academic Supporter membership. Ready to become a member?
Chapter Sponsors
Some of the organizations supporting OWASP Delhi/NCR chapter are below:
Adobe
Sapient
Bharti Airtel
Thought Works
null - the open Security community

For more information on how to support OWASP Delhi chapter in helping organize free and open security meets contact the chapter leaders
Become a Presenter
Submit your talk now for an upcoming OWASP Delhi/NCR Chapter Meeting
Join Discussions on Slack
Link to OWASP Delhi chapter Channel
In case you are not on slack, the registration URL is (requires email only): https://owasp.herokuapp.com
September meet up is scheduled on 28th September 2019 starting 11:00 am IST
Note - All OWASP chapter meets are free and open to everyone. Prior RSVP is mandatory in order to be allowed to attend the meet.
Note - This is a combined null Delhi and OWASP Delhi meet up
More Details and RSVP here: https://null.co.in/events/655-delhi-combined-null-delhi-owasp-delhi-meetup
Details: https://www.owasp.org/index.php/Delhi_NCR
Agenda:
11:00 am - 11:10 am: Introductions and Chapter Updates
11:10 am - 11:25 am: News Bytes & Discussions on Latest Infosec happenings by Chandan Paswan
11:25 am - 12:25 pm: Life in containers: Are they Secure? by Pankaj Mouriya
12:25 pm - 12:40 pm: Networking Breaks
12:40 pm - 01:40 pm: Demystifying Container Escapes by Vaibhav Gupta
01:40 pm - 02:30 pm: The significance of mobile exploit applications by Ankit Giri
02:30 pm - 02:45 pm: Feedback and Next Meet Discussion
When: September 28, 2019 (Saturday) - 11:00 am onward (Please be on time)
Where: Sapient
Unitech Infospace SEZ
Tower-B, Building No-8
Sector 21,
Old Delhi - Gurgaon Road
Dundahera, Gurgaon 122016
Haryana, India
Landmark: Trident Hotel (Straight from Trident Hotel towards Dundahera Village and left from T Point, Unitech building will be on the right. RBS and Amdocs offices are in the same complex.)
Nearest Metro Station:
- IndusIand Bank Cyber City Rapid Metro Station
- MG Road Metro Station
- Sikanderpur Metro Station
Google Maps - https://bit.ly/2mjd20i 
Join our low traffic mailing list for events information and technical discussions
Subscribe to OWASP Delhi Mailing list
Follow @OWASPdelhi for event updates on Twitter
Join our LinkedIn group for event updates on LinkedIn
OWASP Delhi Blog
OWASP Delhi/NCR Meetup Group
OWASP Delhi Special Workshop on Web Hacking
Date: 05th November, 2016 Details: https://goo.gl/1mBbRU
Hands on Secure Coding Workshop @ ThoughtWorks, Gurgaon
Date: 30th July, 2016
Details: https://goo.gl/mW42bE
Application Security for StartUps @ Cyber Security Masterclass for StartUps, AWFIS Delhi
Date: 15th July, 2016
Conducted by: Vishal Asthana on behalf of OWASP Delhi chapter
Web Application Attack & Defense Workshop @ Security & Privacy Symposium 2016, IIITD
Date: 13th March, 2016
Conducted by: Vaibhav Gupta & Sandeep Singh on behalf of OWASP Delhi chapter
OWASP Delhi September, 2016 Monthly Meeting Presentations
Machine Learning in Information Security by Mohammed Zuber
Pwning Windows Mobile Applications by Ankit Giri
WAF Evasion for XSS Attacks by Divya Mudgal (To be Uploaded)

OWASP Delhi August, 2016 Monthly Meeting Presentations
Scratching your Brain into Dark Web
Windows Privilege Escalation Techniques by Dhruv Shah

OWASP Delhi July, 2016 Monthly Meeting Presentations
Introduction to OAuth2 and its Security Considerations by Vaibhav Gupta
Hacking RF (Radio Frequencies) by Prashant Shukla (To be Uploaded)

OWASP Delhi June, 2016 Monthly Meeting Presentations
Mapping your digital footprints by Aakash Goel
Meet the DIVA - Part 1 by Ankit Prateek
Quick & Dirty Forensic Techniques by Kamal Ranjan (To be uploaded)
OWASP Delhi May, 2016 Monthly Meeting Presentations
A Primer on Bitcoins and Digital Currencies by Ankur Vats
OSINT Testcases for Pentesters by Shubham Mittal

OWASP Delhi April, 2016 Monthly Meeting Presentations
Secrets of Google VRP by Krzysztof Kotowicz
Cloud Security & Best Practices in AWS by Ankit Giri

OWASP Delhi March, 2016 Monthly Meeting Presentations
The Art of Android Hacking by Abhinav Mishra
Cyber Crime & Law by Neeraj Arora

OWASP Delhi February, 2016 Monthly Meeting Presentations
WAF in Scale by Alexey Sintsov
Note: The slides of the privacy talk will not be shared by the speaker.
OWASP Delhi January, 2016 Monthly Meeting Presentations
Cyber Threat Intelligence by Sandeep Singh
SIEM - Activating Defense through Response by Ankur Vats

OWASP Delhi December, 2015 Monthly Meeting Presentations
Cyber Security in Next Generation Air Transportation System by Vippan Raj Dutt
Hardware Trojans by Anupam Tiwari

OWASP Delhi November, 2015 Monthly Meeting Presentations
Software Security: In the World of Cloud & CI-CD by Aniket Kulkarni
Hacking Wireless Networks by Mandeep Singh Jadon
Go with the Flow by Kamal Rathaur

OWASP Delhi October, 2015 Monthly Meeting Presentations
'SecureMe - Droid' Android Security Application by Vishal Asthana

OWASP Delhi September, 2015 Monthly Meeting Presentations
Cyber Warfare Capabilities, A Reality Check by Rajeev Chauhan
Setting up a cost effective Application Security program from scratch by Tusnin Das

OWASP Delhi July, 2014 Monthly Meeting Presentations
Botnets - What, How and Why by Utsav Mittal
Combating Cyber Crime by Priyanka Tomar