This site is the archived OWASP Foundation Wiki and is no longer accepting Account Requests.
To view the new OWASP Foundation website, please visit https://owasp.org
Difference between revisions of "Vina del Mar"
From OWASP
m

Line 26:
Line 26:
 

'''AGENDA DE CHARLAS'''  

 

'''AGENDA DE CHARLAS'''  

 

{| class="wikitable"

 

{| class="wikitable"

 
+
 

|'''Expositor'''

 

|'''Expositor'''

 

|'''Título'''

 

|'''Título'''

 

|'''Descripción'''

 

|'''Descripción'''

 

|-

 

|-

 
+
 

|[https://www.linkedin.com/in/tanya-janca-60ab0998/ Tanya Janca - Canada Senior cloud advocate for Microsoft,  specializing in application security]

 

|[https://www.linkedin.com/in/tanya-janca-60ab0998/ Tanya Janca - Canada Senior cloud advocate for Microsoft,  specializing in application security]

 

|Pushing  Left Like a Boss

 

|Pushing  Left Like a Boss

 

|With  incident response and penetration testing currently receiving most of our  application security dollars, it would appear that industry has decided to  treat the symptom instead of the disease. "Pushing left" refers to starting  security earlier in the SDLC; addressing the problem throughout the process.  From scanning your code with a vulnerability scanner to red team exercises,  developer education programs and bug bounties, this talk will show you how to  'push left', like a boss.

 

|With  incident response and penetration testing currently receiving most of our  application security dollars, it would appear that industry has decided to  treat the symptom instead of the disease. "Pushing left" refers to starting  security earlier in the SDLC; addressing the problem throughout the process.  From scanning your code with a vulnerability scanner to red team exercises,  developer education programs and bug bounties, this talk will show you how to  'push left', like a boss.

 

|-

 

|-

 
+
 

|[https://www.linkedin.com/in/rudypinochet/ Rudy  Pinochet – Chile Director de membresías académicas ISACA, al duo en seguridad  en código de Mercado Libre]

 

|[https://www.linkedin.com/in/rudypinochet/ Rudy  Pinochet – Chile Director de membresías académicas ISACA, al duo en seguridad  en código de Mercado Libre]

 

|Como  testear Apache SSL y los más usados CMS (WordPress / Drupal / Joomla)

 

|Como  testear Apache SSL y los más usados CMS (WordPress / Drupal / Joomla)

 

|Como  usando herramientas gratuitas que nos ayuden a mitigar y identificar cómo los  riesgos de seguridad en CMS.

 

|Como  usando herramientas gratuitas que nos ayuden a mitigar y identificar cómo los  riesgos de seguridad en CMS.

 

|-

 

|-

 
+
 

|[https://www.linkedin.com/in/danieliturrietagodoy/ Daniel Iturrieta – ChileJefe de proyectos de Seguridad  Senior en Redbanc]

 

|[https://www.linkedin.com/in/danieliturrietagodoy/ Daniel Iturrieta – ChileJefe de proyectos de Seguridad  Senior en Redbanc]

 

|La  unidad hace la fuerza, la importancia de colaborar en tiempos de ciberamenaza

 

|La  unidad hace la fuerza, la importancia de colaborar en tiempos de ciberamenaza

 

|En  pleno auge de las cibertecnologias, plataformas cloud, planes de  concientización, planes de continuidad operacional, etc, es de vital  importancia entender que la unión hace la fuerza, este es el lema que se  pretende imprimir en el ADN de las organizaciones y en los equipos de  ciberseguridad hoy en día. La tendencia mundial es compartir en tiempo real  la información de los ataques sufridos o descubiertos por las organizaciones,  hoy ya existen tecnologías que permiten tanto a profesionales como  organizaciones ser parte de esta visión de colaboración en pos de una  internet más segura.

 

|En  pleno auge de las cibertecnologias, plataformas cloud, planes de  concientización, planes de continuidad operacional, etc, es de vital  importancia entender que la unión hace la fuerza, este es el lema que se  pretende imprimir en el ADN de las organizaciones y en los equipos de  ciberseguridad hoy en día. La tendencia mundial es compartir en tiempo real  la información de los ataques sufridos o descubiertos por las organizaciones,  hoy ya existen tecnologías que permiten tanto a profesionales como  organizaciones ser parte de esta visión de colaboración en pos de una  internet más segura.

 

|-

 

|-

 
+
 

|[https://www.linkedin.com/in/bertin-b-9a8735126/ Bertin Bervis – Costa Rica Speaker en conferencias  técnicas de seguridad informática por sus investigaciones en el campo ICS/OT.]

 

|[https://www.linkedin.com/in/bertin-b-9a8735126/ Bertin Bervis – Costa Rica Speaker en conferencias  técnicas de seguridad informática por sus investigaciones en el campo ICS/OT.]

 

|javascript  y protocolos industriales : mala combinación

 

|javascript  y protocolos industriales : mala combinación

 

|caso de  estudio practico sobre vulnerabilidades en aplicaciones web de equipos  industriales que se pueden explotar gracias a la interacción de un protocolo  industrial con propiedades específicas que convive e intercambia datos con la  aplicación web del dispositivo industrial.

 

|caso de  estudio practico sobre vulnerabilidades en aplicaciones web de equipos  industriales que se pueden explotar gracias a la interacción de un protocolo  industrial con propiedades específicas que convive e intercambia datos con la  aplicación web del dispositivo industrial.

 

|-

 

|-

 
+
 

|[https://www.linkedin.com/in/aiacobellisec/ Alejandro  Iacobelli / Rodrigo Apas – Argentina Application Security Manager at Mercado  Libre/Application Security Engineer at Mercado Libre]

 

|[https://www.linkedin.com/in/aiacobellisec/ Alejandro  Iacobelli / Rodrigo Apas – Argentina Application Security Manager at Mercado  Libre/Application Security Engineer at Mercado Libre]

 

|Usando  la mentalidad para cambiar el curso de la empresa

 

|Usando  la mentalidad para cambiar el curso de la empresa

 

|Compartirmos  la experiencia obtenida formando RED TEAMING, y  como influye en la  cultura de los equipos de desarrolladores y cómo manejamos el pentesting  externo entre otras cosas.

 

|Compartirmos  la experiencia obtenida formando RED TEAMING, y  como influye en la  cultura de los equipos de desarrolladores y cómo manejamos el pentesting  externo entre otras cosas.

 

|-

 

|-

 
+
 

|[https://www.linkedin.com/in/rtorresve/ Rafael  Torres – Venezuela]  

 

|[https://www.linkedin.com/in/rtorresve/ Rafael  Torres – Venezuela]  

 
 
Line 56:
Line 63:
 

|Demostración del uso de un set de herramientas para realizar algunos test de seguridad sobre aplicaciones web (Docker, Selenium, Python)

 

|Demostración del uso de un set de herramientas para realizar algunos test de seguridad sobre aplicaciones web (Docker, Selenium, Python)

 

|-

 

|-

 
+
 

|[https://www.linkedin.com/in/gustavo-nieves-arreaza/ Gustavo Nieves – Venezuela/Chile]  

 

|[https://www.linkedin.com/in/gustavo-nieves-arreaza/ Gustavo Nieves – Venezuela/Chile]  

 
 
Line 62:
Line 70:
 

|Actualmente  la mayoría de las compañías filtran la peticiones de los proxys como  Burp,Owasp Zap y Accunetix, pero qué pasa si haces una auditoría solo  haciendo consultas en sitios web y utilizando plugins gratuitos  de  los  navegadores, demostraremos que las mayores fallas de una aplicación  son como son configuradas, por eso llegaremos a mostrar lo importante que es  desarrollar el modelo de amenazas, con tu ayuda, contra vectores de ataque  conocidos.

 

|Actualmente  la mayoría de las compañías filtran la peticiones de los proxys como  Burp,Owasp Zap y Accunetix, pero qué pasa si haces una auditoría solo  haciendo consultas en sitios web y utilizando plugins gratuitos  de  los  navegadores, demostraremos que las mayores fallas de una aplicación  son como son configuradas, por eso llegaremos a mostrar lo importante que es  desarrollar el modelo de amenazas, con tu ayuda, contra vectores de ataque  conocidos.

 

|}

 

|}

 
+
 
+
 
+
 
+
 
+
 
+
 
+
 
+
 
 
 

= The Team =

 

= The Team =
---
Revision as of 14:20, 4 April 2019
OWASP Appsec Chile
Welcome to the Appsec Chile chapter homepage. The chapter leader is Gustavo Nieves Arreaza.

Participation
OWASP Foundation (Overview Slides) is a professional association of global members and is open to anyone interested in learning more about software security. Local chapters are run independently and guided by the Chapter_Leader_Handbook. As a 501(c)(3) non-profit professional association your support and sponsorship of any meeting venue and/or refreshments is tax-deductible. Financial contributions should only be made online using the authorized online chapter donation button. To be a SPEAKER at ANY OWASP Chapter in the world simply review the speaker agreement and then contact the local chapter leader with details of what OWASP PROJECT, independent research or related software security topic you would like to present on.
Sponsorship/Membership

to this chapter or become a local chapter supporter. Or consider the value of Individual, Corporate, or Academic Supporter membership. Ready to become a member?
Social Network
Local News
We are glad to announce a new chapter of OWASP Viña del Mar will be launched in April, 2019 with a free conferences. Our goal is to keep contribuiting to a safer acces and development internet for all.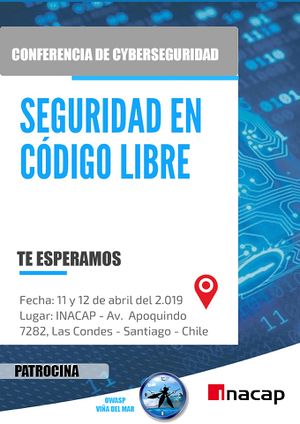 REGISTRO
La entrada a las charlas es gratuita con previo registro, por lo que te pedimos REGISTRARTE AQUI
FECHA Y UBICACIÓN
El evento se realizará los días 11 y 12 de Abril en INACAP, Av. Apoquindo. Las Condes - Santiago 
INFORMACIÓN IMPORTANTE
El registro es obligatorio para los asistentes, debido a que tenemos un cupo limitado para 150 personas.
AGENDA DE CHARLAS
| | | | |
| --- | --- | --- | --- |
| Fecha | Expositor | Título | Descripción |
| 11 de abril -14:00 a 14:45 horas | Tanya Janca - Canada Senior cloud advocate for Microsoft, specializing in application security | Pushing Left Like a Boss | With incident response and penetration testing currently receiving most of our application security dollars, it would appear that industry has decided to treat the symptom instead of the disease. "Pushing left" refers to starting security earlier in the SDLC; addressing the problem throughout the process. From scanning your code with a vulnerability scanner to red team exercises, developer education programs and bug bounties, this talk will show you how to 'push left', like a boss. |
| 12 de abril -10:15 a 11:00 horas | Rudy Pinochet – Chile Director de membresías académicas ISACA, al duo en seguridad en código de Mercado Libre | Como testear Apache SSL y los más usados CMS (WordPress / Drupal / Joomla) | Como usando herramientas gratuitas que nos ayuden a mitigar y identificar cómo los riesgos de seguridad en CMS. |
| 11 de abril -14:50 a 15:40 horas | Daniel Iturrieta – ChileJefe de proyectos de Seguridad Senior en Redbanc | La unidad hace la fuerza, la importancia de colaborar en tiempos de ciberamenaza | En pleno auge de las cibertecnologias, plataformas cloud, planes de concientización, planes de continuidad operacional, etc, es de vital importancia entender que la unión hace la fuerza, este es el lema que se pretende imprimir en el ADN de las organizaciones y en los equipos de ciberseguridad hoy en día. La tendencia mundial es compartir en tiempo real la información de los ataques sufridos o descubiertos por las organizaciones, hoy ya existen tecnologías que permiten tanto a profesionales como organizaciones ser parte de esta visión de colaboración en pos de una internet más segura. |
| 12 de abril -11:50 a 12:40 horas | Bertin Bervis – Costa Rica Speaker en conferencias técnicas de seguridad informática por sus investigaciones en el campo ICS/OT. | javascript y protocolos industriales : mala combinación | caso de estudio practico sobre vulnerabilidades en aplicaciones web de equipos industriales que se pueden explotar gracias a la interacción de un protocolo industrial con propiedades específicas que convive e intercambia datos con la aplicación web del dispositivo industrial. |
| 11 de abril -10:15 a 11:00 horas | Alejandro Iacobelli / Rodrigo Apas – Argentina Application Security Manager at Mercado Libre/Application Security Engineer at Mercado Libre | Usando la mentalidad para cambiar el curso de la empresa | Compartirmos la experiencia obtenida formando RED TEAMING, y  como influye en la cultura de los equipos de desarrolladores y cómo manejamos el pentesting externo entre otras cosas. |
| 11 de abril -11:05 a 11:50 horas | Rafael Torres – Venezuela | Un Web scrabble en 6 paises en latinoamerica | Demostración del uso de un set de herramientas para realizar algunos test de seguridad sobre aplicaciones web (Docker, Selenium, Python) |
| 11 de abril -11:50 a 12:40 horas | Gustavo Nieves – Venezuela/Chile | Auditar un sitio web sin ser detectado (usando sitios web y plugins) | Actualmente la mayoría de las compañías filtran la peticiones de los proxys como Burp,Owasp Zap y Accunetix, pero qué pasa si haces una auditoría solo haciendo consultas en sitios web y utilizando plugins gratuitos  de los  navegadores, demostraremos que las mayores fallas de una aplicación son como son configuradas, por eso llegaremos a mostrar lo importante que es desarrollar el modelo de amenazas, con tu ayuda, contra vectores de ataque conocidos. |
|- |12 de abril -11:05 a 11:50 horas Deavila |Resiliencia y Ciberseguridad: una convergencia necesaria(Colombia) |A diario las empresas sufren ciberataques que afectan directamente la integridad de la información y diferentes factores los cuales al final del día terminan por comprometer la continuidad de un negocio. Sin embargo, ser resilientes y estar preparados para levantarnos después de la tormenta es la principal necesidad que toda organización que ha sido comprometida por un atacante. Entender que sucedió, y como reaccionar es el rumbo que deberá tomar el grupo de personas encargadas de atender el incidente de seguridad. |}
The Team
Chapter Sponsors
This chapter's yearly activity is being supported by the generous sponsorship of the following companies: