This site is the archived OWASP Foundation Wiki and is no longer accepting Account Requests.
To view the new OWASP Foundation website, please visit https://owasp.org
Difference between revisions of "Talk:Working Sessions OWASP Website"
From OWASP
(Designs, Layout and Standards)

Line 39:
Line 39:
 

* (avoid talking about the logo!)

 

* (avoid talking about the logo!)

 

[[User:Clerkendweller]]

 

[[User:Clerkendweller]]

 
+
 
+
 
+
 
+
 
+
 
+
 
+
 
+
 
+
 
+
 
+
 
+
 
+
 
+
 
+
 
+
 
+
 
+
 
+
 
+
 
+
 
+
 
+
 
+
 
+
 
+
 
+
 
+
 
+
 
+
 
+
 
+
 
+
 
+
 
+
 
+
 
+
 
+
 
+
 
+
 
+
 
+
 
+
 
+
 
+
 
+
 
+
 
+
---
Revision as of 15:59, 16 December 2010
Use this page to capture discussion about the OWASP website leading up to the working session.
My goal is to have a proposal documenting stages of change for OWASP website put together before Summit so we can present and go over it as a group for discussion - User:Jason Li
Subdomain Proposal
Propose subdomain migration:
Move away from Wiki

owasp.org/index.php** redirects to -> wiki.owasp.org
wiki continues to be available as incubator for more mature content

Main OWASP page

www.owasp.org is a CMS controlled page with editor approved content
not necessarily a Wiki
(professionally) designed to be geared towards public consumption

Projects Home

projects.owasp.org -> new home for all OWASP projects
ideally leverages Google Project Hosting combined with Google Code Review
provides centralized repository for downloading all projects
provides consistent look and feel to all projects

Forums

forums.owasp.org -> message boards
supersedes mailing lists
must be backwards compatible and transparent with current mailing list infrastructure

Conferences Page

conf.owasp.org -> home for central conferences

Community Page

community.owasp.org?
community home page to encourage ecosystem
can hold chapter home pages
base for OPoints?
Perhaps we also need to discuss (and not discuss):
Search

Main site(s)
Content elsewhere?

Implementation
(avoid talking about the logo!)
On Designs, Layout and Standards
User:ClerkendwellerTo document some of my own thoughts, suggestions, and existing aspects of the current site we don't want to lose track of. All done in pencil, so they can be altered easily.
What URL? SSL? Maintain existing URLs (even if 301 redirects)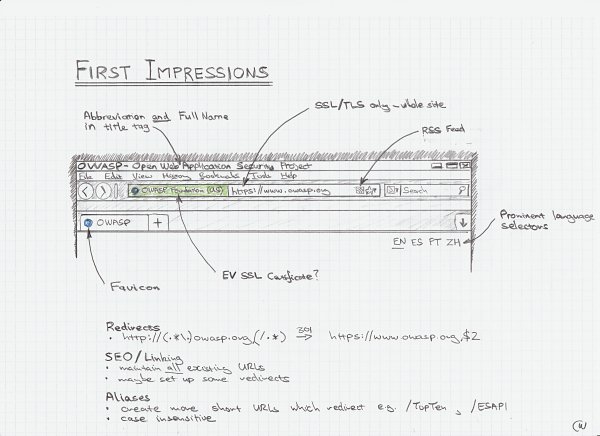 New page header for the whole / all site(s)?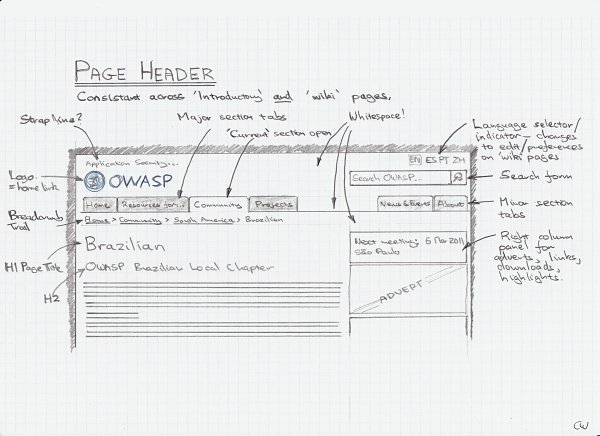 Hang a pure CSS menu off the tabs, so that we can highlight many more pages/resources from every page, but without cluttering up the header. The "Resources for..." is aimed at new visitors, and is probably all new content pages (a lot of work to put these together)... the number suggested is too many, but I didn't want to lose any ideas: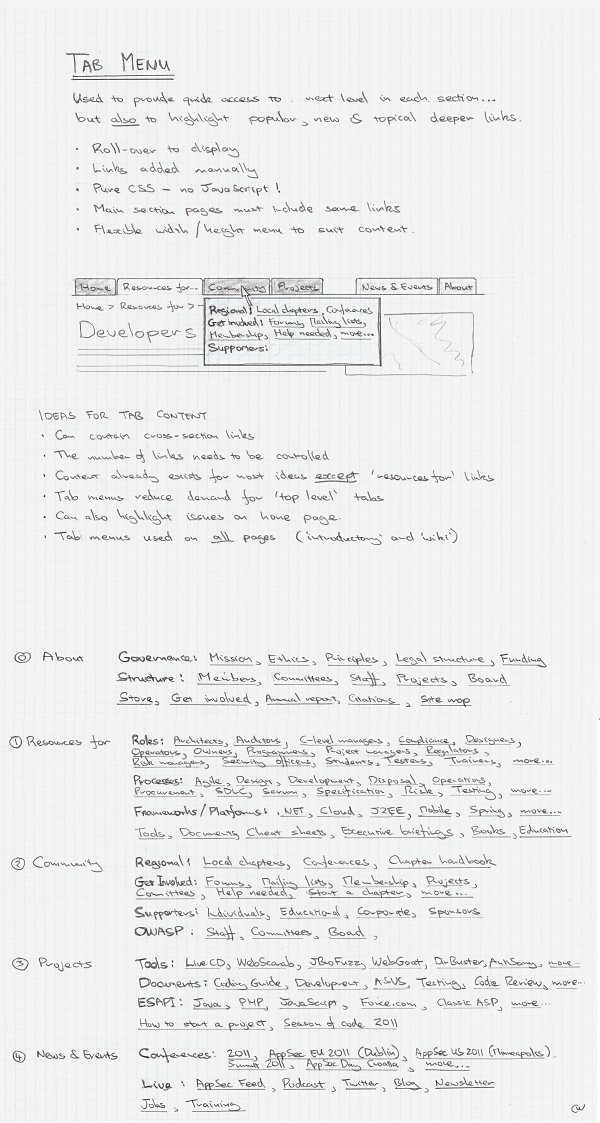 Introduce breadcrumb trails: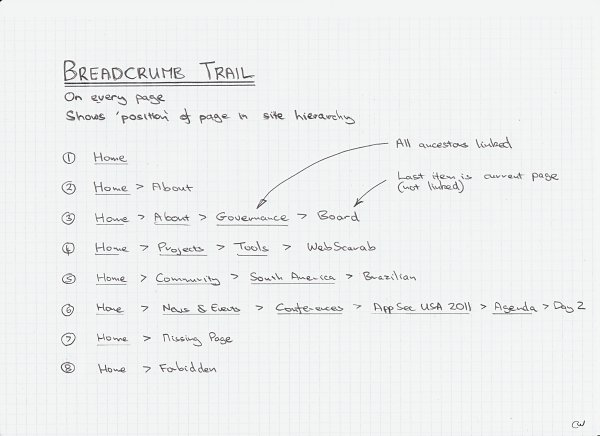 My thoughts were to keep as much as possible in the wiki, and just significantly re-skin the existing/new "introductory" pages. The number of pages styled in the new way can grow as effort permits: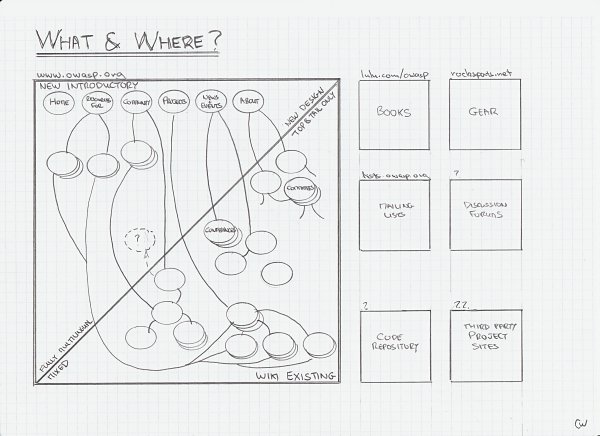 The home page and other "introductory" pages will be fully multilingual and have no evidence of being wiki pages (even if they are):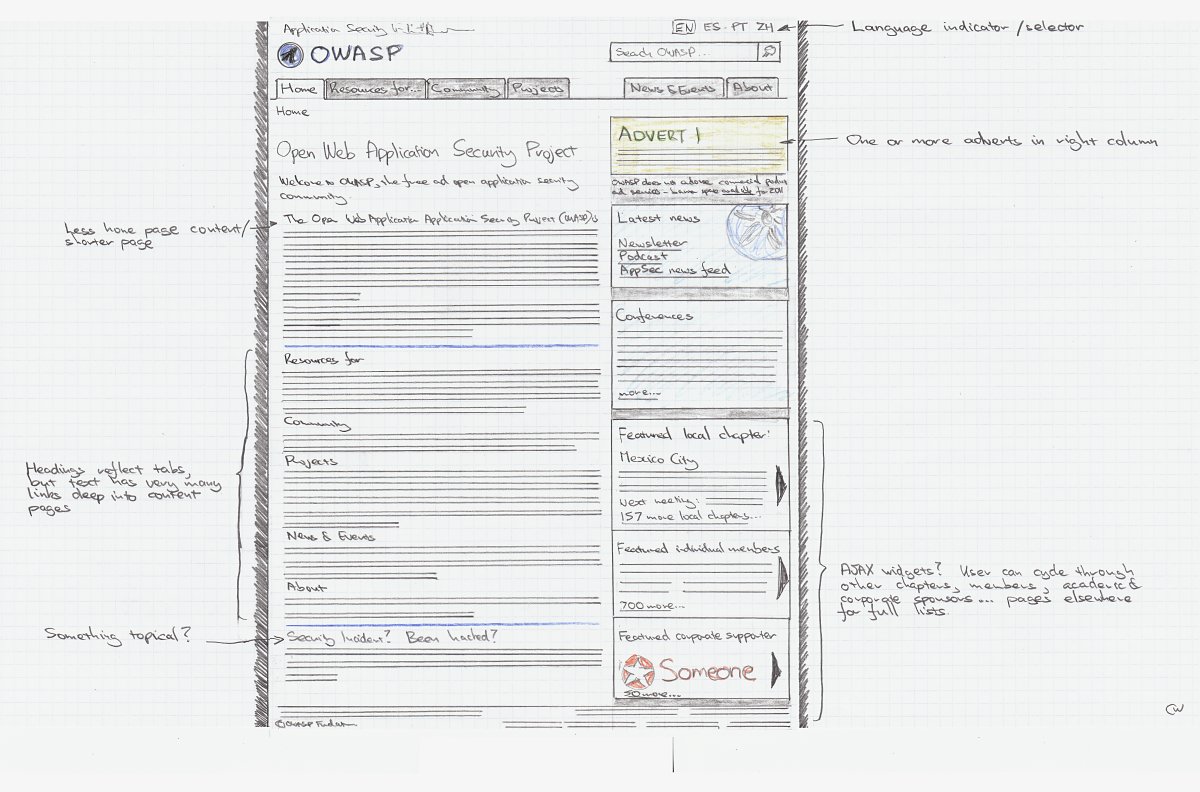 and all the other wiki pages get the new header/footer, with most of the wiki management tools moved to a right column, along with cross-links: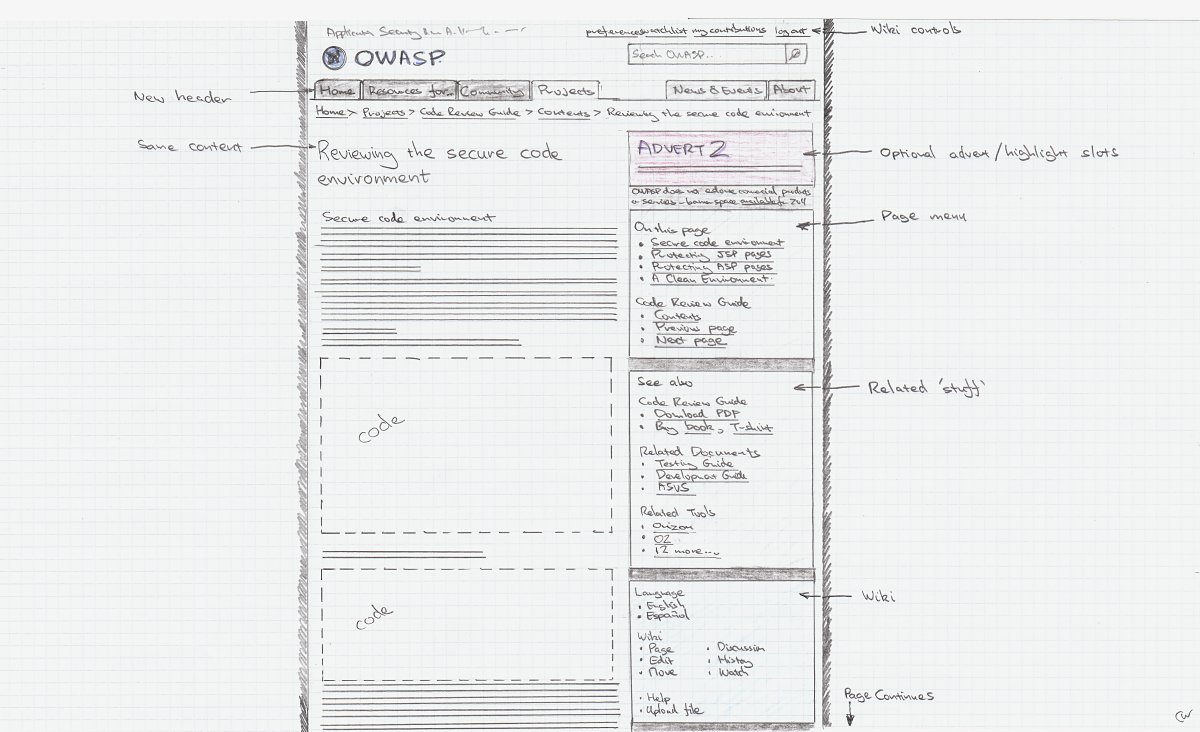 Standard footer across the whole site: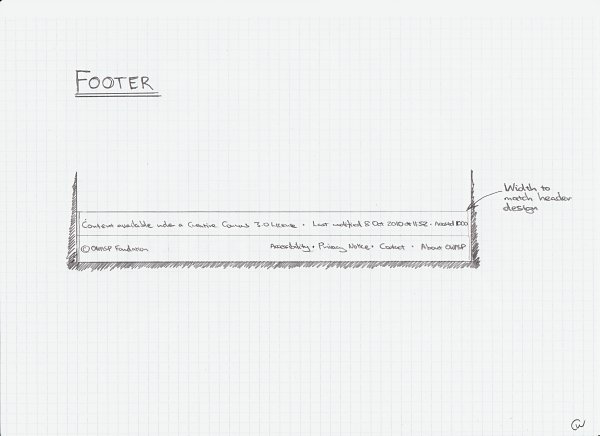 We try to make sure the status bar doesn't display any warnings to "normal" or "appsec" users: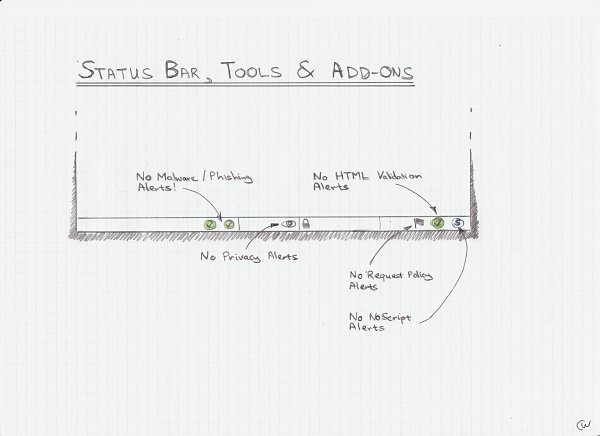 We might want to specify some standards/options to include with changes: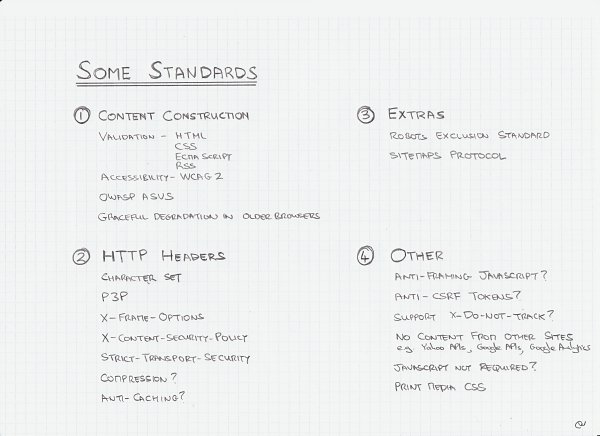 And keep a centred design which expands, but doesn't stretch too wide: