This site is the archived OWASP Foundation Wiki and is no longer accepting Account Requests.
To view the new OWASP Foundation website, please visit https://owasp.org
Lonestar Application Security Conference 2013
From OWASP
LASCON 2013 is happening on October 22-25th, 2013 in Austin, TX
Please see the Official Website http://lascon.org for all details
Follow LASCONATX on Twitter | Norris Conference Center
Who Should Attend LASCON 2013:

Application Developers
Application Testers and Quality Assurance
Application Project Management and Staff
Chief Information Officers, Chief Information Security Officers, Chief Technology Officers, Deputies, Associates and Staff
Chief Financial Officers, Auditors, and Staff Responsible for IT Security Oversight and Compliance
Security Managers and Staff
Executives, Managers, and Staff Responsible for IT Security Governance
IT Professionals Interested in Improving IT Security












Registration Is Now Open!
OWASP Membership ($50 annual membership fee) gets you a discount on registration.

Who Should Attend LASCON 2013:
Application Developers
Application Testers and Quality Assurance
Application Project Management and Staff
Chief Information Officers, Chief Information Security Officers, Chief Technology Officers, Deputies, Associates and Staff
Chief Financial Officers, Auditors, and Staff Responsible for IT Security Oversight and Compliance
Security Managers and Staff
Executives, Managers, and Staff Responsible for IT Security Governance
IT Professionals Interesting in Improving IT Security


For student discount, you must present proof of current enrollment when picking up your badge. No exceptions.
Volunteers Needed!
Get involved!
We will take all the help we can get to pull off the best Web Application Security Conference of the year! Volunteers get free admission. This is your chance to rub elbows with the big players and mingle with potential networking contacts or even future employers!

Please contact paul.griffiths(at)owasp.org to volunteer for a specific area:
Room Monitors
Speakers and Trainers
Vendors
Registration
Facilities
More opportunities and areas will be added as time goes on. Our File:Volunteer Sheet.doc can be downloaded which outlines some of the responsibilities and available positions. Note: this document references the the DC conference last year, this is just for a general guideline. Updated document coming soon.
Hotel
The Hotel Allandale is located next to the Norris Conference Center. You can call the hotel directly for reservations.

Hotel Allandale
7685 Northcross Drive, Austin, TX 78757
Reservations line, 1-800-851-9111
Front Desk, 512-452-9391
http://hotelallandale.com

Rooms include a full breakfast daily and a social hour Monday-Thursday. Hotel Allandale is walking distance from the Norris Conference Center!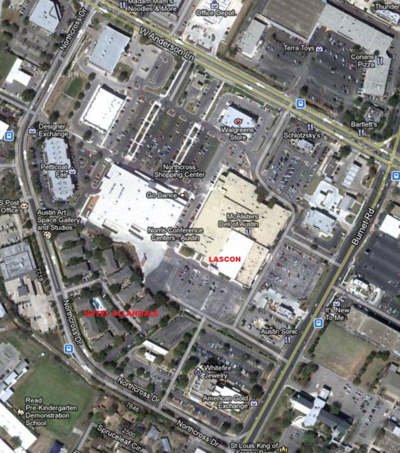 -->
Click for historic information on AppSecUSA 2012, LASCON Edition, LASCON 2011, LASCON 2010