This site is the archived OWASP Foundation Wiki and is no longer accepting Account Requests.
To view the new OWASP Foundation website, please visit https://owasp.org
Lonestar Application Security Conference 2010
From OWASP
LASCON is happening on October 29th, 2010 in Austin, TX
Registration Link | Speaker List Posted! | Follow LASCONATX on Twitter | Norris Conference Center
Welcome
Who Should Attend LASCON 2010:

Application Developers
Application Testers and Quality Assurance
Application Project Management and Staff
Chief Information Officers, Chief Information Security Officers, Chief Technology Officers, Deputies, Associates and Staff
Chief Financial Officers, Auditors, and Staff Responsible for IT Security Oversight and Compliance
Security Managers and Staff
Executives, Managers, and Staff Responsible for IT Security Governance
IT Professionals Interested in Improving IT Security





You can register for the conference here











Call for Papers
Sorry, the CFP has ended for LASCON 2010. Maybe next year?
Registration
Registration Is Now Open!
OWASP Membership ($50 annual membership fee) gets you a discount on registration.
| | | |
| --- | --- | --- |
| Non-Members (Includes a 1 year OWASP membership) | $150 Until 10/26/2010 | $200 After 10/26/2010 |
| OWASP Members | $100 Until 10/26/2010 | $150 After 10/26/2010 |
| Students with valid Student ID (must be shown at the door) | $80 Until 10/26/2010 | $130 After 10/26/2010 |
Who Should Attend LASCON 2010:
Application Developers
Application Testers and Quality Assurance
Application Project Management and Staff
Chief Information Officers, Chief Information Security Officers, Chief Technology Officers, Deputies, Associates and Staff
Chief Financial Officers, Auditors, and Staff Responsible for IT Security Oversight and Compliance
Security Managers and Staff
Executives, Managers, and Staff Responsible for IT Security Governance
IT Professionals Interesting in Improving IT Security


For student discount, you must present proof of current enrollment when picking up your badge. No exceptions.
Volunteer
Volunteers Needed!
Get involved!
We will take all the help we can get to pull off the best Web Application Security Conference of the year! Volunteers get free admission. This is your chance to rub elbows with the big players and mingle with potential networking contacts or even future employers!

Please contact james.wickett(at)owasp.org to volunteer for a specific area:
Room Monitors
Speakers and Trainers
Vendors
Registration
Facilities
More opportunities and areas will be added as time goes on. Our File:Volunteer Sheet.doc can be downloaded which outlines some of the responsibilities and available positions. Note: this document references the the DC conference last year, this is just for a general guideline. Updated document coming soon.
Venue
Norris Conference Center
LASCON 2010 will be taking place at the Norris Conference Center in Austin, TX.
Hotel
We have partnered with the Embassy Suites in the Arboretum and you can book rooms at using the discount code: LAS at 1-800-362-2779 or you can Book your room online.
Embassy Suites Austin - Arboretum 9505 Stonelake Boulevard Austin, Texas 78759
The rooms are $139 for a double or queen, includes hot breakfast and shuttle to/from the event.
Book your room online with the LASCON discount.
Sponsors
Platinum Sponsors
YOUR COMPANY NAME AND LOGO COULD BE HERE
Gold Sponsors
Silver Sponsors
Badge Sponsor
Sponsorship Options
We are currently soliciting sponsors for the LASCON 2010 Conference. Please refer to our List of Sponsorship Opportunities
Please contact James Wickett for more information.
Slots are going fast so contact us to sponsor today!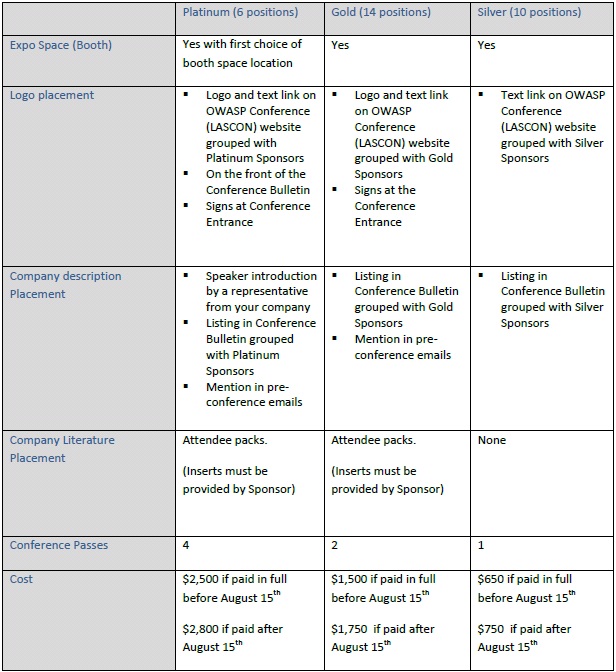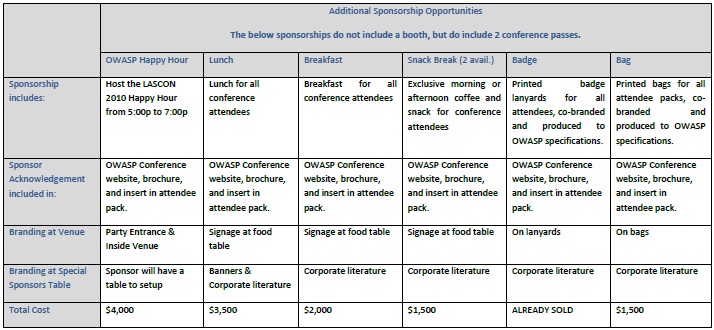 Travel
Traveling to the Austin Metro Area