This site is the archived OWASP Foundation Wiki and is no longer accepting Account Requests.
To view the new OWASP Foundation website, please visit https://owasp.org
LatamTour2014
From OWASP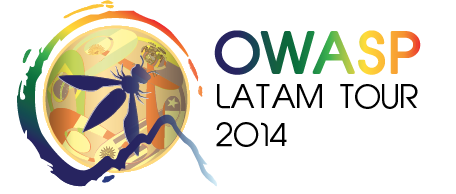 .
Latam Tour Objective

The OWASP Latam Tour objective is to raise awareness about application security in the Latin America region, so that people and organizations can make informed decisions about true application security risks. Everyone is free to participate in OWASP and all of our materials are available under a free and open software license.

We are proposing a chapters training driven model in which the courses are free for OWASP members and students, the contents are OWASP projects focused and the costs are supported by a mix of funding i.e. local chapter budget, external sponsorship, trainers sponsorship i.e. trip and/or accommodation paid by themselves and local chapter members' sponsorship i.e. taking trainers in as guests.



Who Should Attend the Latam Tour?


Application Developers
Application Testers and Quality Assurance
Application Project Management and Staff
Chief Information Officers, Chief Information Security Officers, Chief Technology Officers, Deputies, Associates and Staff
Chief Financial Officers, Auditors, and Staff Responsible for IT Security Oversight and Compliance
Security Managers and Staff
Executives, Managers, and Staff Responsible for IT Security Governance
IT Professionals Interesting in Improving IT Security
Anyone interested in learning about or promoting Web Application Security





Latam Tour stops and days


April, 21-22 Costa Rica (San Jose)

April, 22-23 Chile (Santiago)

April, 23-24 Ecuador (Quito & Guayaquil)

April, 25-26 Peru (Lima)

April, 28-29 Panama (Panama)

April 29-30 Uruguay (Montevideo)

May, 5-6 Venezuela (Caracas)

May, 6-7 Colombia (Bogota)

May, 8-9 Argentina (Buenos Aires)





Special offer - Become an OWASP Member

As part of the OWASP Latam Tour, you could become an OWASP Member by ONLY paying 20 U$D (normal price is 50 U$D). Show your support and become an OWASP member today! Please use discount code LATAM when registering as member to avail this special discount.

]

QUESTIONS

If you have any questions about the Latam Tour, please send an email to [email protected]








                                                                                                                             
INFORMACION Y REGISTRO
Pronto tendremos información al respecto
TALLERES Y CONFERENCIAS - OWASP LATAM TOUR 2014
Martes 29 de Abril (Talleres - En el LATU)
Miércoles 30 de Abril (Conferencia - En Facultad de Ingenieria)
Descripcion y Objetivo
Aparte del OWASP Top 10, la mayoría de los Proyectos OWASP no son ampliamente utilizados en los ambientes corporativos. En la mayoría de los casos esto no es debido a una falta de calidad en los proyectos o la documentación disponible, sino mas bien por desconocer donde se ubicaran en un Ecosistema de Seguridad de Aplicaciones empresarial. Esta serie de talleres y conferencias tienen como objetivo cambiar esta situación proporcionando una explicación sobre los proyectos OWASP mas maduros y listos para ser utilizados en el ambito empresarial.
TALLERES (Martes 29 de Abril)




Taller: OWASP para Pentesters
Durante todo el OWASP Latam Tour se estarán realizando talleres de capacitación dictados por destacados profesionales en la materia.
En Uruguay, se llevaran a cabo el siguiente taller: OWASP para Pentesters el día martes 29 de abril de 2014 en un salón del Parque Tecnológico y de Eventos del LATU - Av. Italia 6201 - Montevideo, Uruguay.




OWASP para Pentesters

Los desarrolladores son una raza extraña. Los Pentesters viven en una burbuja. Este entrenamiento ayuda a los desarrolladores a conocer sobre seguridad en el desarrollo web y a los Pentesters a probar aplicaciones web de forma adecuada.

Orientado a desarrolladores, pentesters y personas relacionados con el ciclo de vida del desarrollo de software o sus pruebas de seguridad.

Nivel: Intermedio

Objetivos:

- Conocer OWASP Top 10 (quick summary) - Aprender cómo comprobar cada vulnerabilidad desde el punto de vista del Desarrollador y del Pentester - Conocer recomendaciones desde el punto de vista del Pentester - Conocer recomendaciones desde el punto de vista del Desarrollador

Perfil del orador

Cristian F. Borghello, es Licenciado en Sistemas, desarrollador, Certified Information Systems Security Professional (CISSP) y Microsoft MVP Security (Most Valuable Professional). Actualmente es Director de Segu-Info y se desempeña como consultor independiente en Seguridad de la Información. Escribe para diversos medios especializados e investiga en forma independiente sobre Seguridad Informática y de la Información. Ha disertado se congresos y seminarios nacionales e internacionales sobre la temática. El interés por la Seguridad Informática y su investigación lo ha llevado a mantener este sitio: http://www.segu-info.com.ar/ Cristian es miembro del capítulo Buenos Aires de OWASP, asi como de los capítulos ISSA (Information Systems Security Association), CSA (Cloud Security Alliance) e ISC2 Argentina.

Duracion: 8 horas

Precio: U$S250 No miembros / U$S200 Miembros OWASP. Existen tambien descuentos para grupos.

Fecha
Lugar
Martes 29 de Abril
Parque Tecnológico y de Eventos del LATU - Av. Italia 6201 - Montevideo, Uruguay.






CONFERENCIA (Miércoles 30 de Abril)
Fecha
Lugar
Miércoles 30 de Abril
Auditorio Massera - Universidad de la República


Pasaje Landoni y J.Herrera y Reissig, Montevideo, Uruguay - www.fing.edu.uy


Precio y Registro
El ingreso al evento es GRATUITO - El proceso de registro lo podrá ubicar en el siguiente link


Link de Registro al OWASP LATAM TOUR 2014: YA DISPONIBLE



Promociones
OFERTA ESPECIAL - Durante todo el OWASP Latam Tour el costo de la membresía anual es de solamente U$D 20. Utilice el código de descuento "LATAM" durante el proceso de registro electrónico como miembro individual en el enlace disponible a continuación.


Hágase MIEMBRO DE OWASP AQUÍ
Si usted aun no es miembro OWASP, por favor considere unirse a nuestra organización.
DETALLES DE LA JORNADA
Horario
Modulo
Ponente
Detalles
08:45 - 09:00
Acreditación
Acreditación
Acreditación
09:00 - 09:30
Conferencia de Bienvenida
Mateo Martínez (OWASP Uruguay) y Fabio Cerullo (OWASP Board Member)
Conferencia de Bienvenida
09:30 - 10:30
KEYNOTE: DevOps, continuous deployment, PaaS y... seguridad?
Andrés Riancho
Los equipos de desarrollo aumentan su velocidad utilizando automatización y nuevas metodologías de desarrollo, deployan nuevas versiones de las Web applications de nuestra empresa una o más veces por dia y utilizan nuevas tecnologías como PaaS. ¿Qué puede hacer el área de seguridad informática para reducir el riesgo sin reducir la velocidad de los equipos de desarrollo? Como afrontar estos nuevos desafios?
10:30 - 11:15
Mitigando vulnerabilidades del OWASP Top 10 con GeneXus
Gerardo Canedo
Desarrollar con una herramienta basada en modelos tiene varias ventajas. La generación de código a partir de una especificación, transfiere la responsabilidad de la codificación segura en el lenguaje de generación a la herramienta. Esto trae una pregunta... ¿GeneXus hace todo para que mi sistema sea seguro?¿Tengo que preocuparme en algo? En esta charla contaré qué hace la herramienta y que aspectos tiene que tener en cuenta el desarrollador
11:15 - 11:30
Coffee Break
11:30 - 12:00
Open Cyber Security Framework Project
Mateo Martinez
Creating, Implementing and managing Cybersecurity Framework has become a need (or may be a must) for many governments and organizations. The Open Cybersecurity Framework Project (OCSFP) is an open project dedicated to enabling organizations to conceive or improve a Cybersecurity Framework. All of the information in OCSFP are free and open to anyone. The framework will be presented during the conference.
12:00 - 12:40
Seguridad en Aplicaciones: Al infinito... y más allá!
Fabio Cerullo
Fabio Cerullo miembro del Board de OWASP presentará la situación actual de la seguridad en aplicaciones incluyendo técnicas de hackeo a automóviles.
12:40 - 13:00
Presentación de (ISC)2
Matias Katz
13:00 - 14:00
Break para Almorzar
14:00 - 15:00
KEYNOTE: Testing de Web Sockets con OWASP ZAP
Cristian Borghello
WebSocket es parte de la iniciativa de HTML5 que define una API que permite a las páginas web, la comunicación full-duplex y bidereccional a través de un solo conector TCP/HTTP para proporcionar una enorme la reducción del tráfico de red. Se analizará este nuevo protocolo y la foma de analizar el tráfico a través del proxy web OWASP ZAP.
15:00 - 15:40
HTExploit Revenge, Ahora con Shodan y Github
Matias Katz
Todos ya conocemos a HTExploit, pero alguno la probó con Shodan y Github? La combinación es letal. Vamos a mostrar como combinar la fuerza de ambos motores para explotar al 500% la efectividad del ataque.
15:40 - 16:30
CERTuy
CERTuy
Ciberseguridad
16:30 - 17:00
Cierre del evento
Cierre del evento
Latam Tour Team
Chapter Leaders
Operations
Platinum Sponsors
Gold Sponsors
Silver Sponsors
Coffee Break Sponsor
Educational Supporters
   

-
   

-

   
Community Supporters