This site is the archived OWASP Foundation Wiki and is no longer accepting Account Requests.
To view the new OWASP Foundation website, please visit https://owasp.org
Difference between revisions of "Glenn & Riccardo ten Cate"
From OWASP
 

(Update page)

Line 1:
Line 1:
−

[[File:Glenn_Ten_Cate_Profile_Picture.JPG]]

+
 
 
−

'''About Glenn:'''

+
 
 
−

As a coder, hacker, speaker, trainer and security researcher, Glenn has over 10 years experience in the field of security. Employed as a security engineer at Schuberg Philis in the Netherlands and speaking at multiple security conferences. His goals is to create an open-source software development life cycle with the tools and knowledge gathered over the years.

+

 

 
+
 
+

 

 
+
 
+

Glenn

 
+
 
+

10 years

 
+
 
+

experience in

 
+

of multiple security

 
+

an open-source with the tools and knowledge

 
 
 
 
---
Revision as of 02:09, 17 July 2017
Project leaders of OWASP-SKF
OWASP Security Knowledge Framework
About Glenn - Glenn ten Cate
- From the Netherlands
- More then 10 years active in Security / Hacking world
- Specialized in web-application / server security
- Coding experience in different languages
- Developer / Contributor of multiple open-source security projects
- Goal would be, creating an open-source SDLC with the tools and knowledge so everybody is empowered to do security by design and deliver high quality software

Contact Info:[email protected]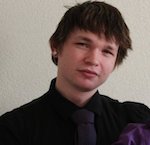 About Riccardo:
As a freelance penetration tester and software developer from the Netherlands Riccardo specialises in web-application security and has extensive knowledge in securing web applications in multiple coding languages.
Contract Info: [email protected]