This site is the archived OWASP Foundation Wiki and is no longer accepting Account Requests.
To view the new OWASP Foundation website, please visit https://owasp.org
German OWASP Day 2015
From OWASP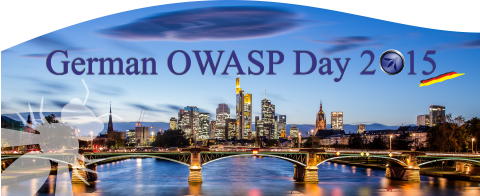 Die führende deutsche Konferenz zur Webapplikations-Sicherheit

CfP - Call for Presentations ist eröffnet, siehe hier.
German OWASP Day 2015 / Deutscher OWASP-Tag 2015
Auch dieses Jahr wird es eine nationale Konferenz, den 7ten German OWASP Day 2015 geben. Die Planungen laufen auf Hochtouren, d. h. eingeladene Sprecher mit fachlichem Tiefgang in spannende Vorträge und der beliebte Vorabendevent für intensives Netzwerken werden vorbereitet.
Unsere Sponsoren
Details für Sponsoren finden sich im → Sponsorsheet . Ihr Ansprechpartner ist Tobias Glemser
Wann + Wo
Dienstag, den 1.12.2014, ab 9 bis zirka 18 Uhr
Geselliger Abend / Social Event
Alle Teilnehmer sowie Vortragende sind herzlich zur Abendveranstaltung am 30. November eingeladen. Details in Kürze ...
Anreise / Directions
English description is on a separate page. Also for the event the day before.
Übernachtung
Call for Presentations
Der CfP ist offen und endet am 01.10.2015.
Programm
Das Programm ist hier zu finden.
Online-Registrierung / Eintrittspreise
Die Registrierung wird in Kürze eröffnet.
Für den OWASP German Day 2015 gelten folgenden Preise (inkl. gesetzl. MwSt.):
T-Shirt Design Contest
Organisation
Boris Hemkemeier Chair/Projektleitung
Hartwig Gelhausen (Board Member)
Martin Johns, Program Chair (Board Member)
Tobias Glemser (Board Member)
Dirk Wetter Chapter Leader
Achim Hoffmann (Board Member)
Hash tag
---