This site is the archived OWASP Foundation Wiki and is no longer accepting Account Requests.
To view the new OWASP Foundation website, please visit https://owasp.org
Difference between revisions of "German OWASP Day 2015"
From OWASP
(CfP removed)

Line 92:
Line 92:
 

-->

 

-->

 
 
−

== Call for Presentations ==

 
 
 
−

Der <u>[[German_OWASP_Day_2015/CfP|CfP]]</u> ist nun endgültig <b>geschlossen</b>. Vielen Dank für die vielen Einreichungen.

+

/

 
+

 

 
 
−

== Online-Registrierung / Eintrittspreise ==

 
 
 
 

Die Registrierung wird in Kürze eröffnet.

 

Die Registrierung wird in Kürze eröffnet.
---
Revision as of 21:11, 23 October 2015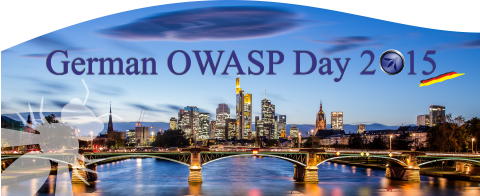 Die führende deutsche Konferenz zur Webapplikations-Sicherheit
German OWASP Day 2015 / Deutscher OWASP-Tag 2015
Auch dieses Jahr wird es unsere nationale Konferenz, den German OWASP Day 2015 geben -- zum siebten Mal. Die Planungen laufen bereits auf Hochtouren, d.h. eingeladene Sprecher mit fachlichem Tiefgang mit spannenden Vorträgen sowie unser beliebtes Vorabendevent für intensives Netzwerken bereiten wir vor.
Unsere Sponsoren
Details für Sponsoren finden sich im → Sponsorsheet , → Information in English . Ihr Ansprechpartner ist Tobias Glemser

Details für die begrenzten Sponsorkontingente werden alsbald auf dieser Webseite veröffentlicht.
Wann + Wo
Geselliger Abend / Social Event
Alle Teilnehmer sowie Vortragende sind herzlich zur Abendveranstaltung am 30. November eingeladen. Details folgen in Kürze.
Anreise / Directions
English description is on a separate page. Also for the event the day before.
Übernachtung
Hotels in unmittelbarer Nähe des Veranstaltungsortes und in allen Preiskategorien.
Programm
Das Programm wird sehr bald unter hier zu finden.
Hier zuvor schon eine erste Liste von akzeptierten Vorträgen:
Marcus Niemietz, Juraj Somorovsky and Christian Mainka: Not so Smart: On Smart TV Apps
Sebastian Lekies and Ben Stock: Your Scripts in My Page - What Could Possibly Go Wrong?
Michael Spreitzenbarth and Jennifer Bombien: Why Organisations should rely on Mobile AppTesting
Alexios Fakos: IT-Sicherheitsgesetz und mögliche Effekte für die Software-Industrie
Volker Hammer: Löschen können! Die DIN 66398 und die Entwicklung von Anwendungen
Amir Alsbih: Praktische Erfahrungen aus der Applikationssicherheit
Juraj Somorovsky: Practical Invalid Curve Attacks on TLS-ECDH
Christian Dresen and Sebastian Schinzel: Webschwachstellen im Internet of Things
Sowie (erstmals) Lightning Talks zu coolen Tools und Projekten:

Ralf Reinhardt: OWASP Secure Software Contract Annex auf Deutsch
Björn Kimminich:. Hacking the Juice Shop ("So ein Saftladen!")
t.b.a
Weitere Vorträge, Vortragsabstracts und Informationen zur Keynote der Konferenz werden in Kürze hinzugefügt.
Online-Registrierung / Eintrittspreise
Die Registrierung wird in Kürze eröffnet.
Organisation
Boris Hemkemeier (Chair)
Alexios Fakos
Hartwig Gelhausen
Tobias Glemser
Ingo Hanke
Martin Johns (Program Chair)
Dirk Wetter (Chapter Leader)
Jan Wolff
Hash tag
---