This site is the archived OWASP Foundation Wiki and is no longer accepting Account Requests.
To view the new OWASP Foundation website, please visit https://owasp.org
Cornucopia - Ecommerce Website - SM K
From OWASP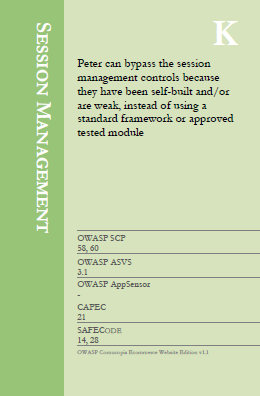 Suit: Session management
Card/Value: K
Description:
Peter can bypass the session management controls because they have been self-built and/or are weak, instead of using a standard framework or approved tested module.
Technical Note:
Centralized session management routines are a good programming practice, but like other routines, developers need to understand how they work, how to use them and any limitations. These should preferably be the framework's in-built session management support. If third party session management libraries are used, it is important to test each routine before its implementation.
NB: This relates to what session management routines to use. See SM Q for application-wide coverage.
References:
| OWASP SCP | OWASP ASVS | OWASP AppSensor | CAPEC | SAFECODE |
| --- | --- | --- | --- | --- |
| 58 | 3.1 | - | 21 | 14 |
| 60 | | | | 28 |