This site is the archived OWASP Foundation Wiki and is no longer accepting Account Requests.
To view the new OWASP Foundation website, please visit https://owasp.org
Cornucopia - Ecommerce Website - SM 8
From OWASP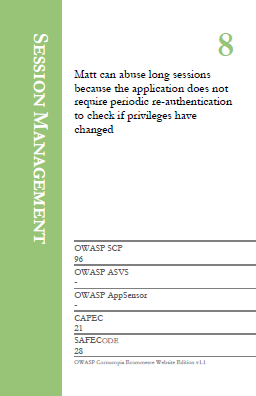 Suit: Session management
Card/Value: 8
Description:
Matt can abuse long sessions because the application does not require periodic re-authentication to check if privileges have changed.
Technical Note:
A user's privileges may change during a session. If this information is also stored in session data, it will not reflect the changes. Consider forcing re-authentication.
See Authentication AT 9 for other re-authentication requirements.
References:
| OWASP SCP | OWASP ASVS | OWASP AppSensor | CAPEC | SAFECODE |
| --- | --- | --- | --- | --- |
| 96 | - | - | 21 | 28 |