This site is the archived OWASP Foundation Wiki and is no longer accepting Account Requests.
To view the new OWASP Foundation website, please visit https://owasp.org
Cornucopia - Ecommerce Website - C K
From OWASP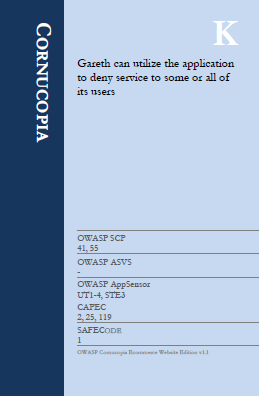 Suit: Cornucopia
Card/Value: K
Description:
Gareth can utilize the application to deny service to some or all of its users.
Technical Note:
Application-layer denial of service and other activities that adversely affect the application's users. Includes:
Account lockout.
Spamming.
Excessive resource consumption.
Scalping.
Sniping.
Must involve the ecommerce application in the attack and thus excludes HTTP DoS (e.g. flood attacks, slow attacks).
References: