This site is the archived OWASP Foundation Wiki and is no longer accepting Account Requests.
To view the new OWASP Foundation website, please visit https://owasp.org
Difference between revisions of "Cornucopia - Ecommerce Website - AT 10"
From OWASP
 

 

Line 50:
Line 50:
 

</tr>

 

</tr>

 

</table>

 

</table>

−

 
−

 
 
 
 
 
---
Latest revision as of 16:19, 21 January 2016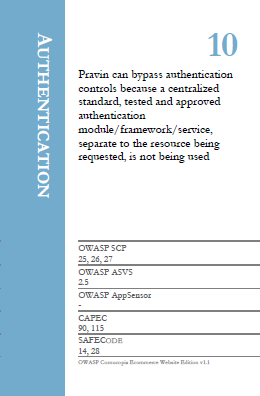 Suit: Authentication
Card/Value: 10
Description:
Pravin can bypass authentication controls because a centralized standard, tested and approved authentication module/framework/service, separate to the resource being requested, is not being used.
Technical Note:
Centralized authentication routines are a good programming practice, but like other routines, developers need to understand how they work, how to use them and any limitations. These should preferably be the framework's in-built authentication support. I If third party authentication libraries are used, it is important to test each routine before its implementation.
References: