This site is the archived OWASP Foundation Wiki and is no longer accepting Account Requests.
To view the new OWASP Foundation website, please visit https://owasp.org
Belo Horizonte
From OWASP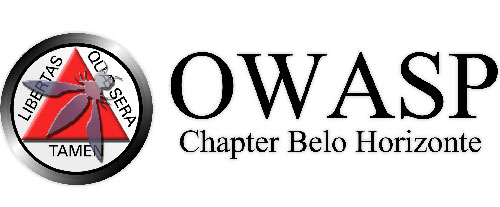 OWASP Belo Horizonte
Welcome to the Belo Horizonte chapter homepage. The chapter leader is Marcelo de Freitas Lopes

Fique por dentro de tudo que está acontecendo no Capítulo Belo Horizonte! Clique aqui e faça parte da nossa lista de discussão.

Participation
OWASP Foundation (Overview Slides) is a professional association of global members and is open to anyone interested in learning more about software security. Local chapters are run independently and guided by the Chapter_Leader_Handbook. As a 501(c)(3) non-profit professional association your support and sponsorship of any meeting venue and/or refreshments is tax-deductible. Financial contributions should only be made online using the authorized online chapter donation button. To be a SPEAKER at ANY OWASP Chapter in the world simply review the speaker agreement and then contact the local chapter leader with details of what OWASP PROJECT, independent research or related software security topic you would like to present on.
Sponsorship/Membership

to this chapter or become a local chapter supporter. Or consider the value of Individual, Corporate, or Academic Supporter membership. Ready to become a member?
Local News
Todos estão convidados para participar dos encontros do Capítulo Belo Horizonte.


II ENCONTRO DO CAPÍTULO OWASP BH
Data: 14/04/2012
Horário: 14:00
Local: On-Line (Go To Meeting)
Programação:
Discutir novos projetos para o capítulo;
Propor e elaborar eventos locais em Belo Horizonte;
Projetos da OWASP que podemos contribuir;
Sugestões na administração do capítulo.
Meetings History
I ENCONTRO DO CAPÍTULO OWASP BH
Data: 17/03/2012
Horário: 13:00
Local: Restaurante Cabo Frio - Rua Goiás, 268, Centro (Mapa )
Programação:
Introdução e apresentação dos membros;
Sobre a OWASP e os objetivos do Capítulo BH;
Projetos da OWASP que podemos contribuir;
Sugestões na Administração do capítulo;
Organização de ações e eventos (BHack);
Papo livre: Segurança da informação em Minas e no Brasil. Assuntos que os membros queiram abordar/aprender.
Videos
OWASP AppSec Tutorial Project Videos:
Links