This site is the archived OWASP Foundation Wiki and is no longer accepting Account Requests.
To view the new OWASP Foundation website, please visit https://owasp.org
Difference between revisions of "Belo Horizonte"
From OWASP
Line 106:
Line 106:
 

Para acessar as apresentações realizadas nos eventos, clique [http://www.slideshare.net/marcelopes1/owasp-chapter-belo-horizonte '''aqui''']

 

Para acessar as apresentações realizadas nos eventos, clique [http://www.slideshare.net/marcelopes1/owasp-chapter-belo-horizonte '''aqui''']

 
 
 
+
 
 
 

= Videos =  

 

= Videos =  
---
Revision as of 19:11, 13 November 2012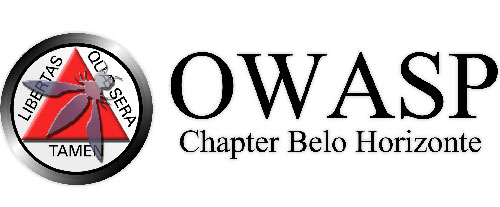 OWASP Belo Horizonte
Welcome to the Belo Horizonte chapter homepage. The chapter leader is Marcelo de Freitas Lopes

Fique por dentro de tudo que está acontecendo no Capítulo Belo Horizonte! Clique aqui e faça parte da nossa lista de discussão.

Participation
OWASP Foundation (Overview Slides) is a professional association of global members and is open to anyone interested in learning more about software security. Local chapters are run independently and guided by the Chapter_Leader_Handbook. As a 501(c)(3) non-profit professional association your support and sponsorship of any meeting venue and/or refreshments is tax-deductible. Financial contributions should only be made online using the authorized online chapter donation button. To be a SPEAKER at ANY OWASP Chapter in the world simply review the speaker agreement and then contact the local chapter leader with details of what OWASP PROJECT, independent research or related software security topic you would like to present on.
Sponsorship/Membership

to this chapter or become a local chapter supporter. Or consider the value of Individual, Corporate, or Academic Supporter membership. Ready to become a member?
Clique nos Banners para visitar o site dos eventos.


A Owasp Belo Horizonte esteve presente no II Workshop de Segurança da Informação, realizado nos dias 24 a 29 de Setembro de 2012 em Montes Claros - MG.

A Owasp BH apoiou e participou do evento de Segurança BHack Conference, realizado em Junho de 2012 em Belo Horizonte-MG.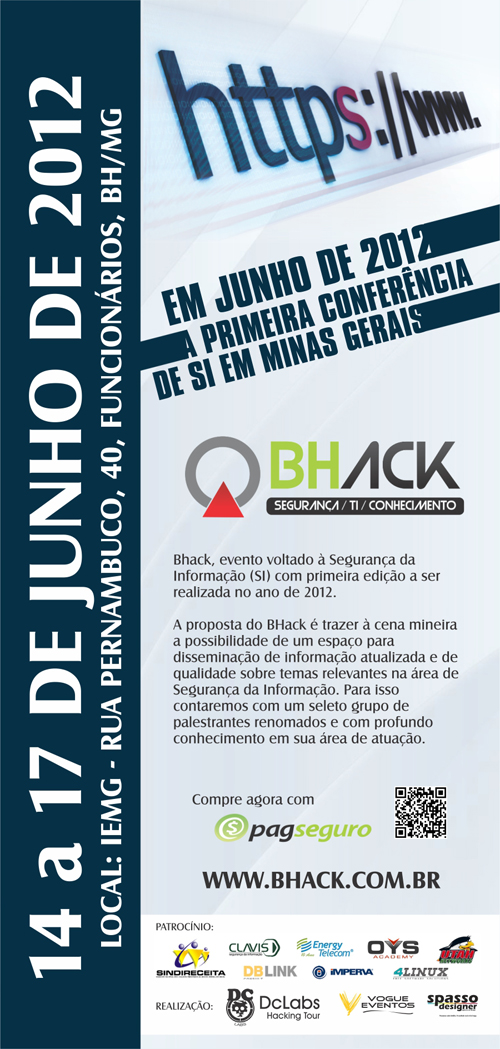 OWASP SAMM
O Capítulo OWASP Belo Horizonte está participando do projeto de tradução do OWASP SAMM.
O Software Assurance Maturity Model (SAMM - http://www.opensamm.org) é uma estrutura flexível e prescritiva para a construção de segurança no processo de desenvolvimento de software. Cobrindo mais do que típicos SDLC (Software Development Life Cycle) baseados em modelos de segurança, o OWASP SAMM permite às organizações auto-avaliar seu programa de garantia de segurança e, em seguida, usar roteiros recomendados para melhorar a forma que está alinhada com os riscos específicos que uma organização enfrenta. O SAMM é um projeto aberto e livre e foi recentemente incluído sob o Open Web Application Security Project (OWASP).

Clique aqui para mais informações sobre os projetos desenvolvidos pela OWASP no Brasil.


Todos estão convidados para participar dos encontros do Capítulo Belo Horizonte.


III ENCONTRO DO CAPÍTULO OWASP BH - Bate-papo especial com Wagner Elias e Magno Logan
Data: 14/06/2012
Horário: a partir de 18:00 (após as palestras do BHack).
Local: Restaurante Donna Margherita (Mapa ).
Programação: Neste terceiro encontro teremos a presença de dois líderes da OWASP:
Wagner Elias: um dos responsáveis pela vinda da OWASP ao Brasil, sendo fundador e líder do Capítulo Brasil. Atualmente, é líder do Capítulo São Paulo.
Magno Logan: líder e fundador do Capítulo OWASP Paraíba a quase 2 anos, com diversas participações/organizações em eventos relacionados à OWASP.
O encontro tem o objetivo de realizar um bate-papo descontraído e aproveitar a presença e a experiência destes Líderes com a OWASP para esclarecer o universo que pode ser explorado com a fundação e motivar o Capítulo Belo Horizonte.


II ENCONTRO DO CAPÍTULO OWASP BH
Data: 05/06/2012
Horário: 19:30
Local: On-Line (Go To Meeting)
Programação:
Discutir uma estrutura para o chapter, do tipo Diretoria;
Publicidade e o foco dos primeiros eventos;
Público alvo que pretendemos atingir;
Desenvolvimento de cartas (e outras formas) de apresentação;
Projetos da OWASP que o Capítulo poderá colaborar;
Demais atividades para serem realizadas no Capítulo;
Outros assuntos.
I ENCONTRO DO CAPÍTULO OWASP BH
Data: 17/03/2012
Horário: 13:00
Local: Restaurante Cabo Frio - Rua Goiás, 268, Centro (Mapa )
Programação:
Introdução e apresentação dos membros;
Sobre a OWASP e os objetivos do Capítulo BH;
Projetos da OWASP que podemos contribuir;
Sugestões na Administração do capítulo;
Organização de ações e eventos (BHack);
Papo livre: Segurança da informação em Minas e no Brasil. Assuntos que os membros queiram abordar/aprender.
Para acessar as apresentações realizadas nos eventos, clique aqui